Best Sex Machines
Sex machines tend to be weightier and have more features than sex toys. Although they might be a more expensive option, purchasing one of the best sex machines could be the best thing you ever do for your bedroom antics, whether alone or with a partner. Let's take a look at some of the very best sex machines below to help you make a decision: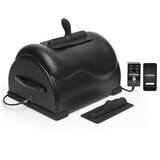 This machine is sophisticated enough for solo riders who want a unique experience, blending both fantasy and functionality. The features of this machine:
2 interchangeable silicone riding attachments for external or blended stimulation
360 degree swivel rotation on a handcrafted saddle for a wild ride
Transmits 1200 RPM of ultra strong vibrations
6 patterns of vibration and variable speeds of vibration
Silicone attachments for slip-resistant, body safe play
Control by wired 3m remote or wirelessly via the app up to 30 metres away
Holds up to 181kg
Cowgirl dimensions: L16.7 x W13.4 x H10.9 inches
There's a lot to cover with this machine. Let's first mention the price: it's not cheap, but it is so worth it! The pictures of this machine do not do it justice. It is beautifully crafted and well put together - the look and feel of the machine is sublime. Although it has a bit of weight to it, it's still light enough to store away, which is always important.
Controlling the machine is easy, and you can do this with the remote or with the downloadable app. You and your partner can have so much fun with this feature!
The rawhide feature is for clitoral stimulation, and surprises many users with just how deep and rumbly they are. There are many patterns to choose from for those who like something different, too! The other attachment can be used both anally and vaginally, and is firm to use - the silicone doesn't dampen the vibrations either, which can be a worry with material like this.
Overall, this makes a great purchase for the wannabe solo rider, or even for couples looking to spice things up.
ICloud 9 Ultimate Thrusting Sex Machine
This mains-powered sex machine will take you right to cloud 9 and beyond. It's very easy to adjust for hands free stimulation, and comes with a realistic dildo. Features include:
Easy assembly – no tools required!
Play in 5 different positions, including standing, squatting and on the floor
Adjustable thrust speed and thrust depth for your perfect ride
Includes a 7 inch insertable dildo
Flex-extension attachment lets you enjoy deeper penetration at an angle that suits you
Folds flat for simple under-the-bed storage
Includes 4 suction cups for a secure grip on the floor
You can tailor the ride perfectly to your needs with this machine. Whether you like it long and deep or at a specific angle, you can make it happen with the attachments and features of this one. Being able to control the angle and depth is a huge bonus, and something not many machines allow you to do. A great choice for those who know what they like.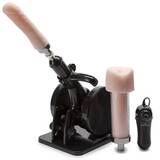 This option is suitable for men, women and couples. It is a mains powered thrusting sex toy that comes with a realistic dildo and lifelike pussy attachment for hands-free pleasure and customisable play options. Features include:
Lifelike masturbation sleeve attachment has a tight 0.2 inch pussy and 9.5 inch ribbed canal for orgasmic penis stimulation
360 degree rotational arm adjusts in height and angle for maximum stimulation
Easy-grip control with scroll-wheel operates thrusting speeds for customised arousal
Adjustable 'E-Z Grip' handle offers stability during use
Small enough to fit under your bed for discreet storage
Includes 4 x suction cups and a metal mounting bracket for security
Pre-assembled for ease - attach your choice of accessory, plug-in and go!
Dimensions: 25 x 12 x 12 inches
Lubing up is essential with this machine, or it may not work. The dildo is bendable with a nice girth, and you could even add a wand for extra stimulation. It is not a silent machine, so you should expect a little noise and probably avoid use when you have guests. The perfect option for couples who want to try something new and exciting.
Pipedream Portable Thrusting Sex Machine
With this thrusting sex machine, you get to choose from its 2 toy attachments to discover its thrilling, thrusting action. Features include:
3 dildos included: 2 as thrusting attachments (each measuring 7.5 inches in insertable length and 5 inches in circumference), 1 as a separately controlled, USB powered vibrator (4.5 inches in insertable length and 4.75 inches in circumference)
Choose from a variety of thrusting speeds ranging between 75 to a whopping 183 thrusts per minute
Includes a Universal adaptor mains plug, operating on 100 - 240V
Set also includes a portable sex machine with foots straps, a discreet carry bag with a padlock, a feather teaser, a blindfold, lube and toy cleaner samples
The machine may look a little smaller than expected, but you shouldn't let that put you off. It is portable, and great for taking away on business trips, spa weekends - just about anywhere you fancy. It is still a hugely powerful machine, so don't worry about compromising there.
If you're going to go with this one, you must learn to relax. Trust the machine and let it do what it does best - thrusting! Although there's only around three inches of thrusting vibrator, you'll be surprised at how deep these sensations feel. It's a wonderful option for both men and women who wish to experiment. What the Pipedream Sex Machine lacks in size, it makes up for in power.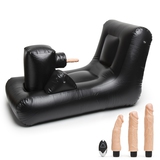 This machine is ideal for those who are fans of lazy loving, as it really does take care of everything for you. Features include:
Curved, tapered vibe measures 6 inches in insertable length and 5.4 inches in maximum girth
Girthy vibe measures 6.75 inches in insertable length and 5.5 inches in maximum girth
Largest vibe measures 8 inches in insertable length and 5 inches in maximum girth
Inflatable chair with back and leg supports offer comfort during play
Includes remote control for hands-free easy operation
Once inflated, bed measures 50 inches (L) x 28 inches (W) x 30 inches (H) and holds up to 300lbs
It's up to you whether you use this machine with or without a man - you certainly won't need one once you have one of these in the house. All you do is pick your chosen vibe and power and you get the experience you crave - no let downs afterwards. However, if you do have a partner, they will love watching you enjoy it!