Best Powerful Vibrators
If you're looking for a little extra oomph in the bedroom, we have a list of the best powerful vibrators that could be perfect for you. These powerful vibrators all come with unique features that could mean you enjoy the ride of your life when you invest! Take a look and see which one is giving you good vibes...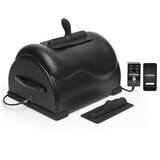 This riding sex machine is designed to revolutionize your solo sessions. It blends both functionality with fantasy, with multiple vibration modes and two attachments. Features of this model include:
2 interchangeable silicone riding attachments for external or blended stimulation
360 degree swivel rotation on a handcrafted saddle for a wild ride
Transmits 1200 RPM of ultra strong vibrations
6 patterns of vibration and variable speeds of vibration
Silicone attachments for slip-resistant, body safe play
Control by wired 3m remote or wirelessly via the app up to 30 metres away
Holds up to 181kg
Although the price tag of this machine can be off putting for some, the machine is well worth the purchase. It's light enough to store away safely but sturdy, which is something you'll want in a machine this powerful and expensive. One of the attachments is for clitoral stimulation, while the other one is a dildo for vaginal/anal play. You can even choose the type of rod that goes inside of it to soften the dildo if you wish.
The control that comes with the machine allows either you or your partner to choose the level of vibration and movement. You could even download an app to use on your phone if you don't want to plug in the remote. The vibration is intense, so it's unlikely you'll be able to crank it all the way up! This is truly a sex machine, not a toy. Calling it a toy would be an injustice.
One downside of this machine is that it can be loud, and anybody who is staying at your home will hear it if you are planning on using it cranked up. It's perhaps not something you should use if you have your kids in the next room or innocent friends staying over. However, when using it on a more forgiving setting, you should not be able to hear it through a closed door.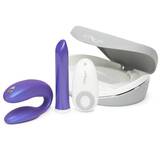 This couple's vibrator set has been designed to celebrate 10 years of togetherness, all wrapped up in an exclusive play case. The wireless toys are rechargeable, and have extra features, including:
Exclusive storage case with USB cable port for discreet storage and charging
Powerful and adjustable for G-spot and clitoral stimulation
Additional 8-mode bullet for extra all-over pleasure
Rechargeable via USB for use anywhere in the world
Sync boasts 10 vibration modes and a wireless remote control so you can choose who takes charge
pjur lube sample included
Completely waterproof for wet adventures
The first and probably the least important thing to say about this, is that the color is lovely. The sparkly purple makes you want to show it off all the time. The packaging is also beautiful, and a nice little bonus of buying this set. The charging case provides an easy place to store your toys and charge them at the same time.
The Tango bullet vibrator is a surprising toy, as the vibrations are quite grumbly and powerful for a bullet vibrator. It's quiet and waterproof, and the ring on the bottom will show you a light so you know when it needs to be charged up.
The We-vibe is very pretty, and features a unique shape. It's perfect for couple's play, although it isn't the most powerful one on the list. That being said, the small G-spot insert is fantastic and you will likely be surprised at how much stimulation you get from this.
Downloading the app is a good idea as it is far easier to use than the remote control. Overall, this option is amazing to consider if you're a beginner with the We Vibe range.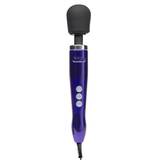 This Doxy wand is mains-powered, with multiple speeds and an escalating pulsation mode. It's the UK's version of the Hitachi Magic Wand - use it on tired, tight muscles or for titillation like you've never experienced before. Extra features of this powerful massage wand vibrator include:
8 speeds of constant vibration plus a multi-speed escalating pulsation mode for customisable play
Easily operated by 3 LED-lit buttons for easy use in the dark
This wand is quite large at 13.5 inches in length and 7.5 inches in circumference, but it's still nice to look at. The wire is long, so when plugging it in, you don't have to worry about being uncomfortable. Although it has a fairly hefty price tag, it's worth the money - you may struggle to transport it with it being so large, but if the motor wasn't so big, it wouldn't be so powerful!
It's a good idea to buy your own case or bag to store it in and keep it safe, so bear this in mind before purchase. It's easy to control with its three easy-to-press textured buttons, and when the vibrator is turned on all three buttons glow blue, which makes them easy to find in the dark.
Upon using this wand you will notice unbelievable rumbling vibrations which will likely lead you to orgasm quickly. The size and power of the toy allows the vibrations to be felt in a wider range - although it may not be for those with particularly sensitive vaginas.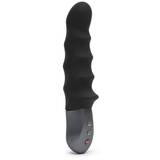 This thrusting vibrator has 10 incredible movement modes so you can enjoy hands-free thrusting and internal massages like never before. Features include:
Small, discreet and created from heavenly soft silicone
10 modes of speeds and patterns for varied thrusting thrills
A rippled shaft delivers deep massages along the walls of the vagina
Waterproof for play in the bath or shower
USB rechargeable for use anywhere in the world
This toy is an amazing buy for the power, and many agree that it's better than a wand. The packaging is well designed, although you will notice a warning not to use if you have a pacemaker - so bear this in mind!
It's a good idea to take a long look at the booklet while you charge up your new toy, as the modes all differ and will seem intriguing to anybody unfamiliar with this toy - like 'gallop' mode!
You don't have to go all the way through the settings to go back one like other toys that just cycle through, which is a great bonus for those who find something they like. It may take longer to orgasm than with a wand but it is so intense it's worth it - a true internal orgasm and nothing else is like it.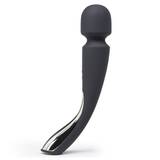 Lengthy and luxurious this is Lelo's award-winning Smart Wand, promising premium pleasure. Features include:
8 individually adjustable settings create a completely tailored experience
SenseTouch technology responds naturally to your touch for custom intensity
Whisper-quiet for discreet fun
100% waterproof for aquatic playtime
Includes satin storage bag, charger, sachet of personal moisturiser
10-year warranty
This wand locks for travel making it perfect for globe trotters - plus, you don't have to find a plug socket to use it! It's just as powerful as mains powered wands, so it's a great choice if you're looking for something easy to take with you that still packs a punch.