Best Luxury Butt Plugs
If you're looking for the best luxury butt plugs to help you spice up your sex life, look no further. Here, you'll find a collection of high quality butt plugs that you can choose from - the various shapes, materials, and features mean that there's something for everyone, male or female. Read on to learn more and find the ideal butt plug for you:
njoy Pure Wand Stainless Steel Dildo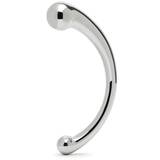 The njoy Pure Wand Stainless Steel Dildo is curved and designed to connect directly to the G-spot or P-spot when used, meaning it can be used both vaginally and anally. The medical grade stainless steel it is crafted in means it is easy to use and safe. Features Include:
Double ended for variation of sensation
Curved for precise stimulation wherever feels good
Weighted for firm pressure
Temperature responsive and compatible with all lubricants
As this comes in a presentation box, it could be the perfect gift for a first-time partner or even for yourself. If you've been dying to see what all the fuss is about, then this butt plug could be the right one for you. It's a beautifully crafted item, and although the price is a little more than other options on this list at £129.99, you'll forget all about that once it's in use.
The design and quality are like nothing else, and it's so easy to keep clean so you can be sure you're hygienic each and every time.
Read More >
njoy Pure Plug Small Stainless Steel Butt Plug
The njoy small stainless butt plug is ideal for those who are brand new to the world of anal exploration. It's crafted expertly in beautiful metal and is smoothly curved for comfort. At £79.99, it's not a cheap toy, but it's worth the price for those who want to spice things up and find out what anal play is all about. More features of this luxury butt plug include:
3 insertable inches and a 3.1 inch girth is perfect for beginners
Smooth metal finish with reassuring weight of 140 grams
The butt plug arrives in a presentation case, so you can surprise your partner or simply gift this to yourself. The plug is easy and safe to use thanks to the material and weight, so you can have peace of mind. The stainless steel material means that those who prefer longer use can enjoy without worrying about the lube running out and uncomfortable wear like you would with a silicone model. Whether you're a beginner or somebody who is experienced in the butt plug game, this one will make you want to leave all of your other models behind.
Rosebuds Stainless Steel Swarovski Crystal Butt Plug 3.5 Inch
The Rosebuds stainless steel and Swarovski butt plug weighs in at a weighty 435g, so it's great for those who may have tried smaller, lighter options and wish to size up and try something heavier. At £74.99, it may seem a little pricy, but this luxury option more than makes up for it in the end. Extra features include:
A light-reflecting Swarovski crystal base
1 inch long neck enables comfortable, prolonged wear
Temperature-responsive for enhanced anal play
The size of this one may look a little large and you may be intimidated, but thanks to the material and design, all you need is a little gentle pressure and you should be able to enjoy it all first time. This is a wonderful butt plug to use before anal sex, and a great option to add to your collection. Overall, this is one of the Best Luxury Butt Plugs out there and you can easily use it to challenge yourself.
DOMINIX Deluxe Glass Faux Fur Animal Tail Butt Plug
This animal dominix glass butt plug has a super-soft, fluffy faux fur tail that's perfect for cat role play, and at only £29.99, you can hardly growl at it. If you've been wanting to get a little kinkier in the bedroom, this could be the ideal toy to add to your repertoire. Extra features include:
Plug is 3.8 inches in insertable length and 4.6 inches in maximum girth
Borosilicate glass is shatter proof, temperature-responsive, hypoallergenic and compatible with all lubes
17 inch tail made from super-soft synthetic fur offers extra external tickles
This is such a pretty butt plug - but practical at the same time! It's easy to clean and comfortable to wear, and makes a brilliant step up for the first time plug user. This is the sort of item that can easily add some excitement to just about anybody's love/sex life. Give it a try if you're feeling adventurous!
Marc Dorcel Geisha Ball Medium Clear Crystal Butt Plug 3 Inch
When in use, the Marc Dorcel Geisha butt plug jiggles, wriggles and bounces for new sensations and awesome weighted bum fun. This butt plug differs, as there is a small ball inside the plug that rolls around when you move. It's a truly innovative device, and the best thing about it is that it's only £29.99. Perfect for somebody who wants kinky fun without splashing out a ton of money. Extra features include:
Internal jiggle ball stimulates the anus as you move for added sensation
Bulbous head measures 4.25 inches at the widest point to fill you up
Weighs 44g
Crystal base
With the crystal base and a selection of colors available, you can't deny how pretty this butt plug looks when in and out of use. It comes in a silky pouch for safe keeping. The silicone is nice and comfortable and it presents no problems when inserting. Don't be fooled when the plug is in your hand - the ball inside may not feel like much, but it certainly packs a punch when in use!
As well as being a lot of fun, this luxury bugg plug is not intimidating in the slightest. It's the perfect addition to any collection, whether you're just starting out or looking to add something quirky to an existing collection. Wearing it in secret at social situations can make for a very exciting experience that only you know about!